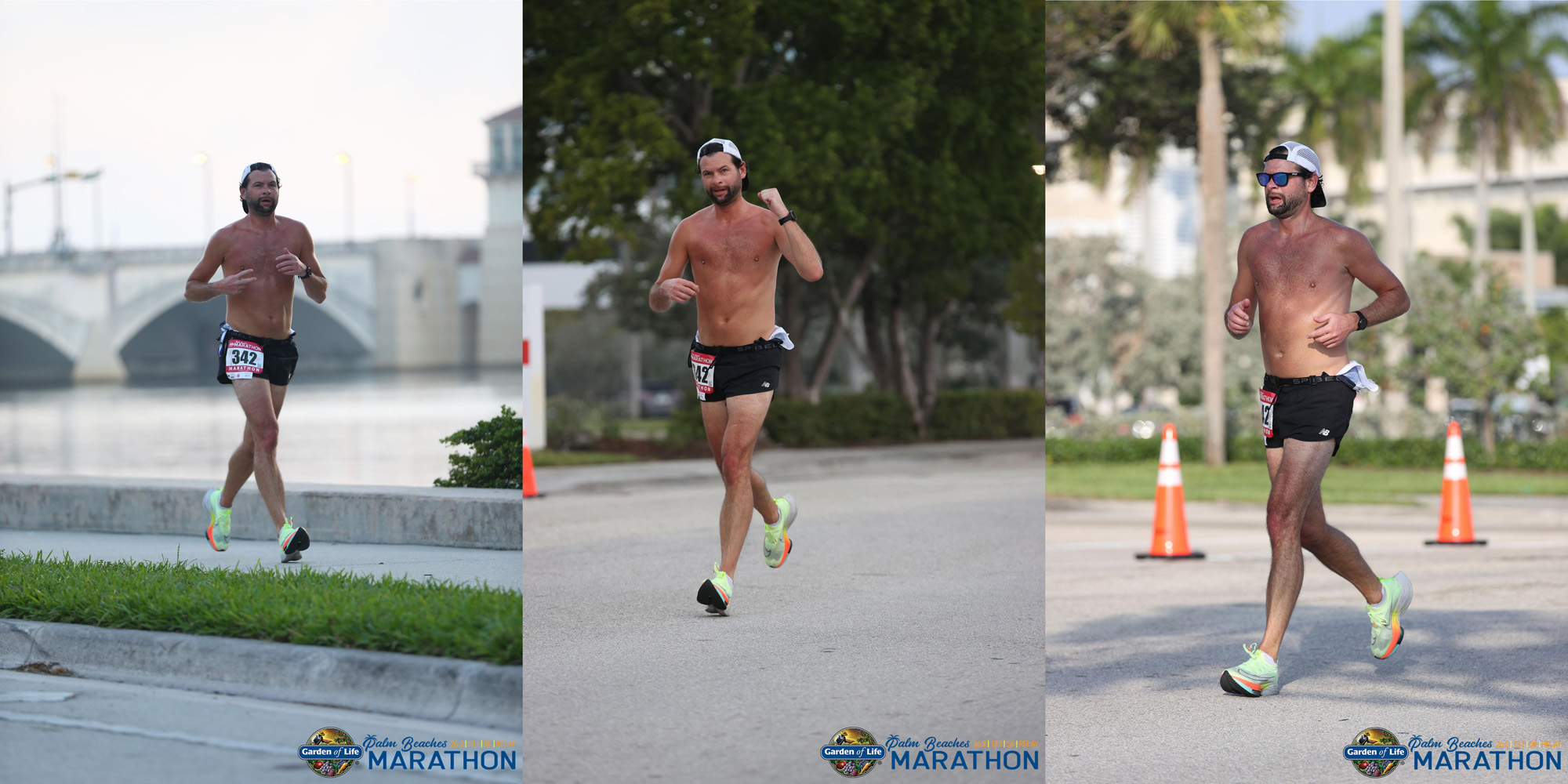 I won't bore everyone with the backstory for this one. Long and short is that Britt got me a bib for this race as a b-day gift when I was complaining about not having run any fast (flat) courses and as a result having never qualified for Boston. As it turns out, I may just not have it in me, oof.
The race was the Palm Beaches Marathon, in FL. It is conveniently located very proximate to the casa of my MIL. So we crashed at her place and had a nice time palling around with her and her partner all weekend in south FL. The race had a 6 AM gun time. But the logistics were so easy that I was able to avoid a lot of the typical pre-race anxiety that I usually experience.
It was already 70 degrees when we started, and it was about an hour before sunrise. There was a breeze coming off the water, so it actually felt pretty pleasant. But when the sun came up… oh man. I'll use that as an excuse. But in reality, I put on about 2 lbs in beer weight after the NYC race. Yeahhhhhh, between Thanksgiving and holiday parties, I managed to sloppy up a fair bit. I was also quite casual about my program (i.e. had no program) for running between the NYC race and Palm Beach. At any rate, the flat course was a huge factor. Even though I wasn't able to get a 3:20 (which is what I would have needed to qualify for Boston), it still ended up being my 3rd or 4th fastest Marathon (even counting the ones I ran when in my 20s), despite the above mention setbacks.
Positive takeaways- #1- First time I have ever worn a 3″ inseam short (notice the massive tan lines). Bought them on a whim when I was picking up some salt tablets. I don't think that I'll ever go back to the 5″ in warm weather. #2- Small races are cool. Energy is much different, but the tradeoff is having a low stress environment. It was so rad to see Britt right at the finish line. They also didn't charge anything to download the race photos!! #4- I guess I don't really care if I ever get into Boston or not. I just like running, haha.